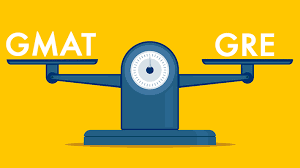 The GRE is accepted at 1200+ Business Schools worldwide. Its Unique Quantitative Question focuses on quantitative comparisons, while the GRE's Unique Verbal Questions look at Sentence Equivalence & Text Completion. This test is better for creative/flexible thinkers.
The GMAT is accepted by all business schools. Its Unique Quantitative Question focuses on Data Sufficiency, while the GMAT's Unique Verbal Questions look at Sentence Correction & Critical Reasoning. This test is better for number-crunching thinkers.
GMAT vs. GRE: Structure and Scoring
| | | |
| --- | --- | --- |
| | GMAT | GRE |
| Length | 3 hours and 30 minutes | 3 hours and 45 minutes |
| Number of Essays | 1 | 2 |
| Number of Multiple-Choice Questions | 90 | 80 + 20 unscored research questions |
| Number of Sections | 4 | 6 (Including an unscored research section) |
| Composite Scoring | Composite GMAT score ranges from 200-800, in ten-point increments | Verbal and Quantitative Reasoning each have score ranges of 130-170, in one-point increments, for a total score of 260-340 |
| Cost | $250 | $205 |
| How Long Are Scores Valid? | 5 years | 5 years |
Business schools prefer GMAT or GRE?
Although many business schools claim that they do not have any preference regarding GMAT or GRE scores, but a little more than 90% of applicants include the GMAT score. Why is that?
There are 3 reasons:
GMAT is designed to test skills which help assess MBA admission committees, who all can, not only get in but also get through the MBA program.
Taking the GMAT gives Business Schools an idea about the clarity of your career goals. Since GRE is accepted for other graduate programs as well, it might make admission committees wonder about how certain you are about joining a business graduate program
Most business schools are accustomed to comparing GMAT scores of applicants as they are more comfortable interpreting the GMAT scores. You never know if business schools tend to convert GRE scores to GMAT scaled scores to compare all the applications.
Which test is easier: GRE or GMAT?
In general, the GMAT suits those who have strong quantitative and analytical skills, who also excel at interpreting data presented in charts, tables, and text to solve complex problems. The GRE math section tends to be more straightforward and, unlike the GMAT, includes a calculator for all quantitative problems. Strong editors may gravitate to the GMAT's verbal section while test-takers with strong vocabularies may prefer the GRE. Both tests have their "oddball" question types—Quantitative Comparison on the GRE and Data Sufficiency on the GMAT—that will take some preparation to get used to.
How do I choose?
The best way to determine whether the GMAT or GRE is better suited to your abilities is to get your feet wet with a practice test for each exam. Getting into business school is competitive and you don't want to take an actual GRE or GMAT sight unseen.
Conclusion:
Although the number of schools accepting the GRE is rising, you must keep in mind that not all B-schools accept GRE for MBA. Make it a point to check if the schools you want to apply to accept GRE scores for MBA before you choose which test to take. Overall, even though B-schools certainly have a preference for the GMAT, you can get in via the GRE as long as the schools you are interested in also accept the GRE.
We hope this article has helped you take your situation into account and choose an exam that will suit your purposes.