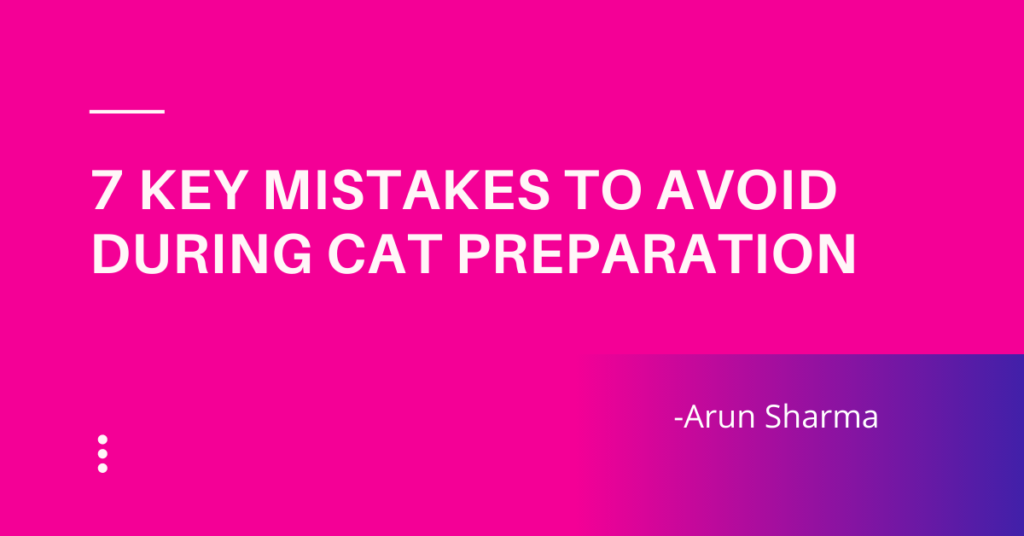 One of the key dimensions of CAT preparation tips I am always asked to answer, is about key mistakes to avoid during CAT preparation. In this article I will discuss the top 7 mistakes to avoid during your CAT prep process:
1.STARTING TOO LATE:
This one is obvious. To avoid it, try to find your own optimal time/s for the preparation of each section – and make sure you start at an appropriate time for each section. Also, remember that ideally you want at least 3-4 months on test taking (ideally this 4 months should be after completing your portion, but alternatives are available where you can do both portion and testing together).
2.IMBALANCED PREPARATION:
As the name suggests, balancing your CAT preparation and distributing your study time amongst all the sections is an important thing to remember in your CAT Preparation journey. Make sure to avoid the following sub-mistakes:
Under doing your DI-LR preparation
Overdoing Quantitative Aptitude
Not balancing your preparation on a weekly basis between the sections. I often see, students ending their weeks with one section underdone. Remember to balance your weeks between Verbal, QA and DI/LR. However, you do not need to balance your CAT preparation on each day. Balancing on a weekly basis should suffice.
3.PLAYING FOR SPEED STRAIGHTAWAY
Learn to get questions correct first, before you start to increase your speed. Remember, learning to walk will always precede learning to run. Once you are comfortably getting your questions correct on any question type – speed would come automatically.
4.DELAYING TESTING FOR TOO LONG:
Remember that you require a minimum of 3-4 months of test taking to be able to hit peak performance at the time of CAT. Trying to squeeze your test taking into lesser time than that, will necessarily lead to a below par performance in your CAT exam.
5.NOT TAKING ENOUGH SECTION TESTS:
Testing has to be taken on two levels. While Full length mock tests are important, Sectional tests are equally important – and not taking an adequate number of section tests is a crucial mistake, which you should try to avoid.
6.NOT ANALYSING TESTS ENOUGH:
Taking tests is not enough. A significant amount of learning during your CAT preparation process is derived from the analysis of the tests. Unfortunately, most students do not invest enough time after the test in analyzing their tests. Remember to do two important things in your CAT Test analysis.
Question wise analysis: Get into the skin of each question. Extract the learning and process to get to the correct answer in each question.
Behavioral and decision making analysis: Analyze closely your time investment decisions in each question, look closely at the correlation between your time and attempts during the time of each section, evaluate your question skipping decisions, analyze the reason and the source.
7. NOT BELIEVING IN YOURSELF:
Keeping the faith is the most critical part of your CAT Preparation journey. I have often come across very good students who lose out in the race, simply because they lost faith in themselves too easily during the process. Remember, the biggest battles in life against any odds are won only when you keep the faith in yourself. Having yourself on your side, is what you want to do in your CAT Preparation journey!