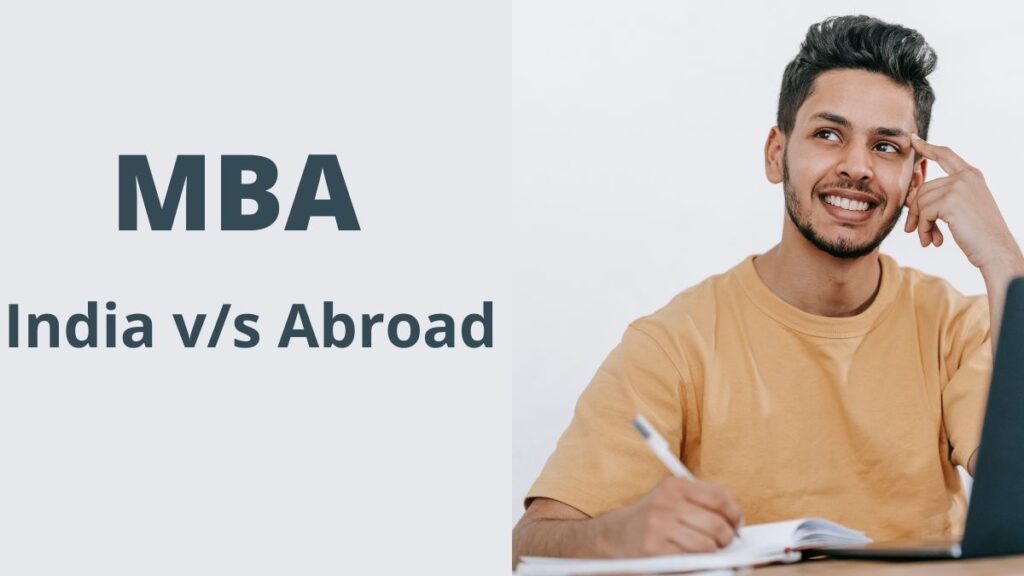 MBA is one of the most favoured & sought after courses not just in India but worldwide. It is a highly regarded business degree as well & is preferred by students not only from business background but also from engineering, social science, physics etc.
Demand of MBA graduates is increasing as more and more companies are coming up and the existing ones are on the way to expansion. Bachelor degree is not enough for students to get into top positions and in corporate offices. MBA degree adds to personal growth, personality development, leadership, skills, gaining confidence, ability to stay independent etc. unlike bachelors degree you will find a variety of students with a lot of prior work experience, different academic background, different age bracket. Some Indian students prefer to do MBA in India itself whereas some look forward to go abroad for the same. The reason is pursuing a MBA degree in the native country seems more comfortable & convenient yet there is a desire to have a foreign degree, inter national exposure, excellent opportunities, different lifestyle One can compare MBA in India vs MBA abroad on different parameters such as cost of study, process/entrance exams, finance available, accommodation expenses, placements etc, salary growth etc. in case you have not made a sound decision yet here is an article to help you out. Keep reading!
Entrance exam requirement/ Prerequisites for Admission:
Well, if we talk about MBA in India , the most common entrance exam is CAT i.e. Common Admission test. Apart from that there are some universities that conduct a separate test such as XAT, NMAT, IIFT, SNAP, etc. These entrance exams also help you to get admission into PG Diploma in Management apart from MBA. Once you clear the entrance exam you will be invited for a group discussion, essay writing test/ other similar rounds followed by Personal interview. Just like CAT is needed for admission to B-schools in India, Graduate Management Admission Test (GMAT) is to be undertaken to get admission to MBA abroad. This is the difference between MBA in India and abroad admission requirement. Its also important to know that it is relatively tougher to get selected for MBA Abroad . Universities abroad also accept GRE scores in place of GMAT. GMAT is relatively more flexible as it is conducted on a rolling basis throughout the year and allows students to appear for the exam as per their preference. As per Graduate Management Admission Council(GMAC) roughly 30,000 students appear for these tests every year and atleast 80% crack them and then go for their MBA in preferred destinations.
Work experience:
There is no such requirement in context of work experience for admission in MBA -India. Your entrance exam and the further GD, PI rounds will do the needful. Rest, we cant deny that work experience will definitely add value to your application. Talking about MBA- Abroad, top B-schools call for a great score, fine academic record and work experience of around 2-3 years.
Cost of education:
The cost of education and living play a very important role. The cost of an MBA depends totally upon the institution you are choosing. If you do it from IIMs, it will cost you around INR 8 lakh to INR 23 lakh. The program fee for MBA PGPX for one year from IIM Ahmedabad is INR 28 lakh. However, if you do your MBA from tier-2 business schools in India, the program fees will start from INR 8 lakh. The cost of an MBA course in foreign countries is one of the biggest reason why many students do it from India. In the US, the tuition fees for a two years MBA is from$90,000 (66,84,871) to $1, 40,000 (INR 2,975,544).
The one year program will cost less, which is around $55,000 (INR 40,85,323) to $80,000 (INR 59,42,288).
Cost of Living
Average living expenses for a student in India is around 20,000-30,000 INR per month and monthly living expenses for studying abroad is at least 50,000-70,000 INR per month.
Top B-Schools in India :
Indian Institute of Management Ahmedabad I Indian Institute of Management Bangalore I Indian Institute of Management Calcutta I Indian Institute of Management Kozhikode I Indian Institute of Management Delhi I Indian Institute of Management Indore I Indian Institute Of Management Lucknow I Xavier labour Relation Institute I Indian Institute of Management Kharagpur I Indian Institute of Management Bombay
Top B-Schools Abroad:
Stanford Graduate School of Business, Standford University I Harvard Business School Harvard University l Wharton school of the University of Pennsylvania I HEC Paris I MIT Sloan School of Management I London Business School I IE Business School l INSEAD l Columbia Business School Columbia University l IESC Business School
Quality of education:
For advancement in career quality education is very important. The premier IIMs and IITs offer excellent courses that are at par with international levels. The foreign institute follow a more industry oriented approach and are more practical when it comes to management education. Their curriculum inculcates more of case studies of different business entities and gives more of hands-on learning experience. Those learnt principles can be used later on in terms of application into actual business practice. Business schools in India focus more on
theoretical concepts but that being said many top schools are making changes and introducing new concepts and reengineering their curriculum
Career scope & ROI :
Also, if you cant make it to top B-Schools like we mentioned above then you should re consider your decision because there can be a risk of low return on Investment.
Students who purse you MBA from top B- school in India are placed through campus placements and have opportunities to get interviewed by top MNCs and banks. One can go through the placement reports available online to have better insight of the recruitment scenario of different colleges. MBA colleges abroad do not guarantee a placement. Students have to take the initiative themselves. The B schools abroad conduct industrial visits and workshops which gives students excellent opportunities to connect with the potential
employers. However MBA from a Top B school abroad adds a lot of value to a student's profile and makes it easy for them to find a job.
Salary:
Graduates from IIMs, ISB and other top schools earn around 18- 25 lakh whereas graduates of Harward and Wharton earn an average of 78 lakhs.
Pros of doing MBA in India:
Tuition fees is more affordable
Admission is easy even without work experience
Paperwork is less
Process of applying is easy
The environment/culture is familiar hence its easy to adjust
Cons of doing MBA in India:
ROI is uncertain
Practical exposure is less
Payout is not that high, and is limited for a few top students
Pros of doing MBA Abroad:
Higher average salary than
Scope of settling
Diverse environment
Global exposure
Range of specializations is wide
Cons of doing MBA Abroad:
Cost of an MBA abroad is twice or thrice more than that in India.
Admission process is time consuming
Requires extensive paperwork
Difficult to adapt to the culture and environment
Work experience is an essential factor
Summary:
Apart from India , USA is one of the most preferred destinations along with other countries like Canada, Australia, UK, Singapore. Well from keeping all these factors in consideration what we can see is that its going to be much cheaper for you if you do MBA in India because flights, accommodation and cost of living, tuition cost of MBA from a foreign university can be very high. If you are looking for a cheaper option abroad you can consider doing MBA from Germany as they don't charge tuition fees which will save alot of money. Apart from that you will have to start building network from scratch which will also not be as easy as it seems because it takes quite a long time to settle down and familiarise with a stranger country in the first place. And job opportunities will not just come easily through online portals or college placements, you would also need recommendations and connections. Its advisable to do a detailed study of universities (India & Abroad) and then weigh the parameters as the cost difference is huge. One cannot really say which alternative is the best amongst MBA India vs MBA Abroad for you because it depends on various personal factors and both have their own set of benefits and disadvantages. So one should be very thoughtful and analytical while finalizing this decision.
Arun Sharma's GMAT Classes
Get Access To Personal Mentorship from India's most sought after aptitude trainers Arun Sharma and Meenakshi Upadhyay
Learn More